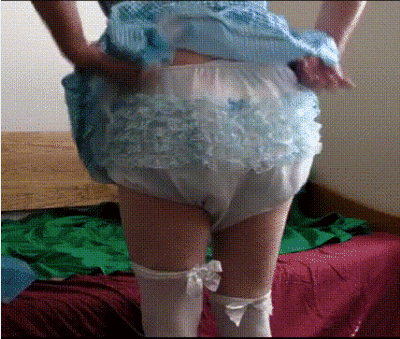 Sissy Baby Slut Exhibition!
June 12, 2019
Jenna Wants To Tease A Silly Abdl Boy! (part 3)
 (first part) Georgie was confused at first as Jenna stepped back from his crib, then shocked as she lifted her skirt up and slid his paci down the front of her white cotton panties.  They did nothing to hide the fact that she was sliding the nipple of his paci inside of her pussy!  She pushed it in and out a few times, then pulled it out from her panties, shiny and wet with her juices. 
"Would you like to find out what a pussy tastes like? All you have to do is open wide", she said teasingly. Before he even thought about it his head was nodding yes frantically, and she popped it into his mouth quick, with his face scrunching up at the odd taste. Within a few seconds though his tongue was gliding across it to get every tiny bit of the warm, musky juice covering it, his cheeks sinking in a little while he sucked frantically at it. Just how embarrassed should little Georgie be? Click here to find out what happens next and call for kinky abdl phone sex.
Babysitter Jenna
1-888-430-2010
Click Here to chat with a phone sex Mommy!
#kinkyabdl #adultbaby #diaperfetish