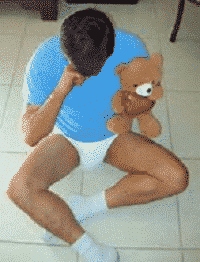 Good Abdl Boys Get Rewarded! (part 2)
February 15, 2020

Smothered by Mommy's Ass
March 21, 2020
Diaper Fun With Diaper Girl Lacy!
Derrick enjoyed watching his girlfriend Lacy walk around the house in her abdl diapers. He liked the way they crinkled, the way they bunched up between her thighs, how the thick ones would spread her legs to give the cutest waddle.  He would reach out randomly to pat her bottom whenever she shuffled past to tease her, ask her if his baby needed a diaper change.  She liked it when he did that, but only a little bit more than it embarrassed her, and he can always tell when her diaper is wet even when she has something on covering it from the way she blushes and shies away a bit.  He would herd her towards the changing table, sometimes picking her up over his shoulder just to hear her squeal and giggle and clean her up to put her in a fresh, comfy diaper.  But what he liked better than all of that was when she indulged in a bit of diaper masturbation.  More accurately, when he indulged her and gave her permission after he decided that she had begged enough for it, because she loved doing it even more than he loved to watch. Sometimes he would tell her she could only use her fingers while she wore a tiny diaper and the sight her hand half in/half out of it with the outline of her fingers playing with her clit always got him hard.  Other times he would tell her to use her vibrator but only through the diaper, and that always made him cum from watching her thrash around on the bed when she finally came like that! How much would you like to watch a pretty show like that? Call me for some diaper girl phone sex and tell me just how much!
Lacy
1-888-430-2010
Click Here to chat with a phone sex diaper girl!
#abdl #adultbaby #diapergirl #diapermasturbation #ageplay